Here's some of the best tech you can buy to take your hikes to the next plateau.
GoPro HERO 11
£499.00
The concept of a camera only used for "activity" seems a bit out of date in modern times. But in 2022, social media still rules. The Hero 11 Black is a success on all counts, despite the fact that it has updated technology and software and looks like every other GoPro this side of 2019. The camera's software has been effectively streamlined, the new, nearly square sensor is incredibly adaptable, and Quik, the GoPro companion app, has also been enhanced. The Hero 11 Black is a terrific addition to the range, offering best-in-class stability, stunning footage in all except dark and dimly lit scenarios, as well as some entertaining new modes like light painting.
Apple Watch Ultra
£819.00
The Ultra is the beefiest, best and most expensive Apple Watch you can get.
Apple is going for the luxury adventure watch market, which is controlled by Garmin. The Apple Watch Ultra is the ideal technological tool for adventurers and explorers in a variety of settings, from the ordinary to the extraordinary, thanks to its larger, brighter display and durable build. In addition to offering Waypoints and Backtrack functionality, the completely redesigned Compass app in watchOS 9 presents more detailed information in three different layouts.
BioLite Headlamp 330
£57.21
The BioLite HeadLamp 330 can output 330 lumens for around 4 hours whilst remaining impossibly light. You will experience no extra weight from a clunky battery, vertical bouncing or chaffing after long periods of time. This is the perfect headlamp for runners and people doing more physical activity.
Goal Zero Nomad 50 Solar Panel
£251.00
The Goal Zero Nomad 50 is best used in conjunction with a Goal Zero battery pack. Otherwise, it is simply a gigantic panel with a single USB port, which makes it feel a little overkill for charging small electronics like cell phones. That said, this 50W panel is highly efficient and works well in marginal conditions. It's durable and uses excellent materials, resulting in a decent overall construction — like most Goal Zero products. With a storage pocket and attachment points, it feels like an oversized version of the mid-range panels in this review. We would recommend this product to folks planning on setting up a remote base camp, where they need to charge a large power bank for a trailer or camper van, where weight is not a concern; otherwise, the lack of portability makes the Nomad 50W feel a little obsolete.

Outdoor Gear Lab
Nanopresso Portable Espresso Machine
£84.90
The casual espresso drinker will adore this tiny machine, but the die-hard espresso enthusiast might find it too basic. In either case, the Wacaco Nanopresso is compact but mighty, well-built, and simple to operate. It's ideal for frequent travellers, who can bring it camping or on vacation. Access to hot water is the only limitation.
ACR Bivy Stick Two-Way Satellite Communicator
£276.00
The new ACR Bivy Stick and accompanying app transforms your smartphone into a fully-functioning satellite communication device. There are no activation fees; simply connect your phone to the Bivy Stick via Bluetooth to enjoy global connectivity where regular gps fails.
Its as compact as it is powerful and can be easily mounted to any vehicle, backpack, or structure. It comes with a raft of built-in features including two-way SMS messaging, SOS calls, location sharing, one-touch Check-in, and in-depth weather reports sent right to your smartphone. You will also be assigned a dedicated phone number and email meaning your nearest and dearest have a private and secure way of keeping in contact without the need to initiate first contact.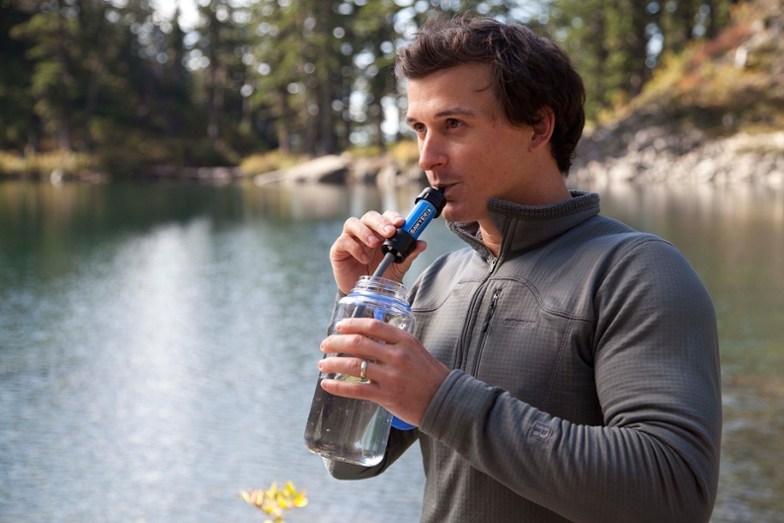 SAWYER Mini Water Filtration System
£38.00
The Sawyer Mini Filter is an extremely light water filter. Rated to 0.1 micron absolute, weighs only 2 ounces, and filters up to 100,000 gallons! Very reliable and easy to use. Ideal for outdoor recreation, hiking, camping, scouting, domestic and international travel and emergency preparedness. The MINI removes 99.99999% of all bacteria, such as salmonella, cholera and E.coli; removes 99.9999% of all protozoa, such as giardia and cryptosporidium.